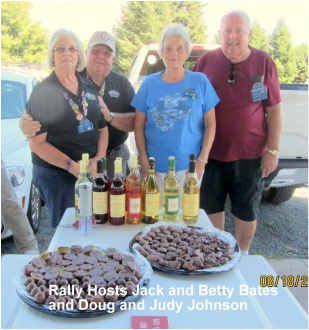 ​
Little River Casino Rally 2016

The Little River Casino in Manistee hosted our group for the 2016 August Rally. Rally Masters Betty and Jack Bates and Judy and Doug Johnson greeted the 22 coaches as they arrived.

Those attending were Steve and Marcy Aller, Jack and Betty Bates, Ed and Anne Bearse, Tom and Marcia Bird, Jerry and Diana Conrad, George and Vicki Daubresse, Bob and Shirley Dingman, Ken and Alice Hamlin, Richard and Ilene Ikens, Doug and Judy Johnson, George and Rosa Krec, Jim and Barb Miller, Dick and Kathy Montgomery, Kathy O'Bee, Rick and Eleanor Payne, George and Margaret Punches, Don and Jeanne Rypma, Larry and Barb Vanderburg, John and Simone Verellen, Bruce and Dorothy Wierman, Jerry and Sue Woller, Dick and Nona Wylie and Guests Sherry and Ed Sioka. Wow, what a great group!

On Tuesday at 4 pm we all met for happy hour and afterwards got together for our potluck dinner. Besides the fabulous food that was brought by everyone, Jack made grilled hot dogs over an open fire grill. George & Margaret Punches and Richard & Ilene Ikens were able to attend the potluck but without their coaches this time. We also found out that Maggie Chubb, absent this time, had appointed Jack Bates as her deputy to collect money from those who dared not to wear their badges! Maggie, Jack did very well and you have a lot more ice cream money for the social at Petoskey. Lesson: Maggie is always watching.

Wednesday morning started with a homemade buttermilk pancake cook off between Jack Bates and Ed Bearse with sausage prepared by the rally hosts. We're still not sure who won, but bragging rights were vehemently expressed by both cooks! Sorry there wasn't a golden spatula award available for either!

The rest of the day was to explore, gamble or do whatever the members choose to do. Great news! Ruth Ann Hindes was a big winner and bought everyone a drink at dinner. (NOTE: Ruth Ann, there is a casino in Petoskey!) At happy hour, the rally hosts set up a washer toss game where if you got a washer in the cup in the middle of the box you won a dollar. First time around, no one won. The rules were changed then so if you got a washer in the box, you would win a dollar and 2 dollars if the washer went into the cup. Now we had some winners! Jack and Ed had a side bet for the ice cream fund. The ice cream fund won. We'll not say who lost, but his name begins with E. That night everyone met at the Bungalow Inn for a great dinner.

Thursday morning everyone met for coffee, doughnuts, fruit and juice and then went to Manistee to tour the First Congregational United Church of Christ. This is a State & National Historic Site. The church sanctuary was magnificent with 42 stained glass windows, two which were made by Tiffany. These windows are worth millions of dollars today. There were many other wonderful things that we learned during the tour. Some of us even got to climb the stairs to the big bell and look at the four clock face machinery and gander at the town from way up! Very interesting! Then we climbed aboard a trolley bus and toured Manistee, learning about the lumber barons and the history of the area. A great time was had by all. After that everyone was on their own to explore and gamble. (Sorry, no more big winners, as far as we know.)

Our happy hour on Thursday consisted of a homemade chocolate & wine tasting party furnished and narrated by Jack Bates. There were 12 different kinds of wines & 4 delicious kinds of chocolates. All were homemade by Jack & Betty. Jack did a great job of explaining the ingredients of the different wines and how they are made. Besides learning a lot we got to taste some GREAT WINES & YUMMY CHOCOLATES!

Friday everyone met for coffee hour and said their goodbyes until we meet in Petoskey.
​
We want to thank Betty & Jack Bates and Judy and Doug Johnson for putting on a super rally and we'll look forward to going back to Little River Casino again!