BAY CITY RALLY
JULY 2013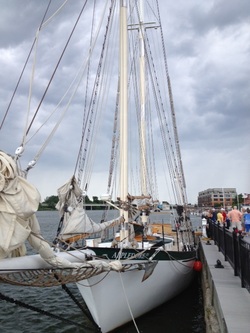 Appledore Tall Ship
Well it sure did start off as a hot rally - 91 degrees most days! When Wednesday approached, 16 coaches arrived, including our new members, Ralph and Sami Parry! We are so glad to welcome them into our group! Once everyone got settled in, we had a short happy hour at Dick & Kathy's motorhome. Everyone then headed over to J & R restaurant for a delicious meal of perch or taco's.
Thursday morning we had donuts & muffins! Yumm! After breakfast, most members went on a guided tour of the USS Edson Ship! The ship was a destroyer in the Viet Nam era and very interesting! Then, we went over to the Toy and Fire Truck Museum with over 17,000 fire trucks including full size and models. The owner was there so we got to ask him all about the museum! Some of the members then went to the Ice Cream shop-Holy Scoop to cool off! Great Ice Cream! That evening, we went to dinner at Grampa Tony's! Willie McKinney and Charles Duncan joined us too along with Charles' brother and sister in law! It was great meeting them! We also got a pleasant visit from the Mieske's and were so happy to see them for a short time!
Friday morning we got a great surprise from Peggy! She made Crockpot Eggs for breakfast for all of us! Wasn't that nice of her? She's so sweet :) Friday was a complete free day, unless you went to Duncan Gun Shop in the evening. Many people did shoot, be careful Dick is shooting! Friday afternoon, a big heavy storm came through that only lasted a few minutes but boy was it a big storm! Some trees broke off and went onto houses and some people even lost power! Most were a little more lucky only losing a few branches. unfortunately, Peggy & Bob Dennis lost their awning! Their awning even hit Peggy in the head! What a great way to end the day! Luckily, she is alright and still has her funny personality! We sure are gonna miss her due to their having sold their motorhome and moving to Arizona! Also Friday afternoon, we donated $815 and $85 worth of personal items to the Good Samaritan Rescue Mission. Our thanks go to Sam and Karen Joseph, Bill and Jane Kirschke and Jerry and Sue Woller for their work in collecting those items and to all the members that contributed!
Saturday morning, Peggy's at it again! This time, she made crockpot oatmeal! And not to worry Peggy, it was great!! At 3 o'clock forty of us boarded the Appledore Tall Ship for a two hour cruise out into Saginaw Bay! We had a few rain sprinkles to keep us cool and a good wind to fill the sails. It was very peaceful and we all enjoyed it.
Sunday morning, we cleaned up more donuts from the bake shop! You'd think we hadn't eaten in a week! And then, all too soon, we said our goodbye's and it was" Gentlemen, Start Your Engines" and away we went! See you next month in Monroe!!
--Submitted by Northern Lights newest reporter, Jessica Bird.


PS remember to send any news or photos that would be of interest to the group to Tom Bird using Northern Lights new email account: nlfmca@gmail.com Thank you!!
---
Saturday at the Cool Car Show and the Appledore Cruise

Craft Time

Peggy did a bit of shoreline hunting along Lake Michigan before the rally to find stones that looked like a foot. The small pebbles picked were used for toes. Stones and pebbles were assembled to resemble a foot. The ladies enjoyed a little time making their own paper weights. It took some selecting of the right "foot" and "toes". One foot even had a bunion on its side and a toe with a chipped nail. That foot belonged to Judi. Carol's granddaughter used her imagination to make a bear print. There was laughter and smiles and artists happy with their creations.