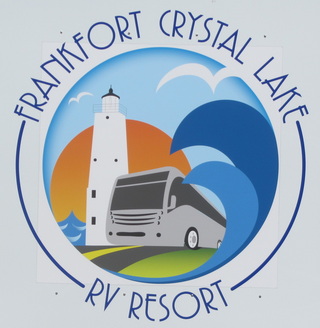 Frankfort Rally 2014

The new Crystal Lake RV Resort in Frankfort welcomed our Septembers rally group under the direction of rally masters Ed and Anne Bearse and Sam and Karen Joseph and what a great job they did! Many of the 31 coaches(!) arrived Thursday afternoon during a downpour but the weather let up in time for Happy Hour. Old friends and past members Peggy and Bob Dennis and Larry and Char Jacobson were here and we hope they'll visit us again soon. Our campground owner, Roger Mix, and his crew did a fantastic job cooking up a pork roast in their outside oven and making delicious pulled pork sandwiches, briskets and corn on the cob for dinner! Barb Vanderburg finished us off with two kinds of cakes and our "fine money" provided the ice cream for our September birthday members! Surprisingly, they did survive our operatic talents! We had just finished desert when the rain deluge started again and we all waddled towards our coaches as fast as we could.

Friday morning, our rallymasters were up early preparing for coffee hour after a long night of thunderboomers and six inches of rain! Our tented meeting area had become a shallow pond so we met in the utility room by the showers and gobbled up the donuts, fresh fruit, coffee and juice! We then proceeded by mini-bus to the Benzie Area Historical Museum learning much about the interesting history of the area. Very nicely done! If you missed it and are in the area again, be sure to stop by. Lunch was provided free by Koegel's famous hotdogs under our now dried out tent area and they were delicious.

In the afternoon, it was off to downtown Frankfort to enjoy the 1953 movie, The Long, Long Trailer with Lucille Ball and Desi Arnez in living color at the restored art deco Frankfort Garden Theater. Great show and lots of belly laughs! Happy hour was at 4PM (with NO rain!) followed by our potluck dinner and card bingo into the evening. Ed, Anne, Sam and Karen had everyone laughing while running the card bingo and auctioning off the prizes with play money. Thanks!!

We're very happy to welcome five new members this weekend: Steve and Marcy Aller from Grass Lake, Frank and Bonnie Hilberer from Ann Arbor, Mike and Leslie Ostyn from Grant, Kathy O'Bee from Ada and Dan and Pat Loveday from Lake City! Watch out upper northernlighters, the southern contingent is catching up with you!! We hope they enjoy our club as much as we do.

Saturday morning, that great ball of fire in the East finally greeted us! Yea!! After our donuts and coffee, we had our annual business meeting and election of officers. The secretary's and treasurer's reports will be posted on our web site as soon as completed. We did vote to provide a coupon for new members to pay for their next rally fee as a "thank you" for joining the Northern Lights. We also raised $850 in cash and $50 in food for our annual charity fund donation to the Benzie Area Christian Neighbors group for their assistance to the needy. Thank you all! New officers are Richard Montgomery – President, Ed Bearse – Vice President, Shirley Dingman – Treasurer, Karen Joseph – Secretary, Tom Bird – VP Communications, Bob Dingman – National Director, Ken Hamlin – Alt. National Director, Kathy O'Bee – Chaplin, Maggie Chubb – Sgt of Arms and Rod Chubb, Bob Webber, Ed Bearse and Sam Joseph – Rally Committee. Thank you all for your continuing service for our club!

The afternoon and evening were on our own and many attended the Taste of Benzie, sampling local food and wine and music in the Mineral Springs Park in downtown Frankfort. Others shopped the quaint stores in Frankfort and Beulah and sampled the ice cream at Kilwins! After happy hour, we hit the restaurants again to, guess what – eat some more!! Lookout diet, Monday is going to be brutal!!

Sunday morning arrived all too soon as we scampered off in all directions. Such is the benefit of our nomadic lifestyle provided by our rolling condos. Thank you again, Sam and Karen, Ed and Anne for a super rally and we'll look forward to more great times next year. Have a safe and fabulous winter wherever your travels take you!




Frankfort Rally Attendance

Steve & Marcy Aller

Ed & Anne Bearse

Tom Bird

Dan & Pat Bowles

Rod & Maggie Chubb

Bob & Shirley Dingman

Tom & Sharon Dorrance

Don & Sharon Eversmann

Ken & Alice Hamlin

Frank & Bonnie Hilberer

Fred Hollister

Larry & Char Jacobson

Doug & Judy Johnson

Sam & Karen Joseph

Dick & Anne Joyner

John & Mary Kaiser

Mike & Marti Kelly

Don Kirkpatrick

Bill Kirschke

Iggy & Cindy Konrad

Dave & Mia Lanyon

Tom & Jeanette Lepping

Larry & Barb Vanderburg

John& Simone Verellen

Bob & Liz Webber

Bruce & Dorothy Wierman

Jerry & Sue Woller

31 Coaches & 57 members attended the rally

Attending Thursday only (no coaches)

Bob & Peggy Dennis

George & Vicki Daubresse




Northern Lights Chapter, FMCA
c/o Sam and Karen Joseph
5809 Cottonwood Avenue
Big Rapids, MI 49307

Dear Northern Lights Club,

Unfortunately, being employed doesn't keep everyone above the poverty line. 30% of families coming to BACN for help are neighbors who are employed full or part time.

Jenny and her family have benefited from this summer's seasonal employment up-swing. Her husband Greg has a year round job doing maintenance for a local church. Jenny and Greg moved to the Benzie/Manistee area because they wanted to feel connected to a community and to raise their children outside of the hustle and bustle of suburban life. They feel fortunate to be working, but with wages under $10 per hour, the family income still falls below the federal poverty level.

Your gift was essential this month to help supplement Jenny's food budget when cash ran out at month's end. Last winter, it was critical to help with an overdue utility bill.

Jenny is grateful each time she visits BACN for the respect and encouragement she feels from the volunteers and she feels blessed by donors, like you, who keep BACN's pantry and outreach available. Unfortunately, the gap between prices and wages in our area will mean her story will continue to be common.

I want to extend a very grateful thank you for your generous gift of $850. It is humbling when visitors to our area help to support the families who make time here a respite.

Warm Regards,

Gerri VanAntwerp

Executive Director
Benzie Area Christian Neighbors